Batley Bunting- a work in progress
Batley Bunting- a work in progress
23 May 2022 (by Simon Donnelly (sdonnelly))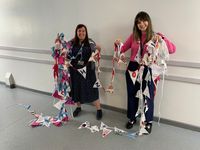 You will remember from last week's blog our Trust family of schools have been asked to make some bunting for National Thank You Day on 5th June. Our bunting from Batley will be displayed in the Tate Britain alongside some of the nation's greatest masterpieces.
This is a superb opportunity for our learners to showcase their artistic and creative skills, and to have their work exhibited in a national gallery. Mrs Farrar and Mis Dick demonstrate our progress so far-the bunting really is looking great and is so individual with all our year 7 learners including their ideas about why Batley is special to them.
The purpose of the bunting and National Thank You Day is to thank people from across the country for all of the wonderful things they do, day in and day out, and how they support each other to build stronger communities. The Queen's Platinum Jubilee this summer is a great excuse for a big party, to say thank you to everyone who has helped us through the pandemic and life in general. UBHS would like to thank our whole community for your ongoing support for our wonderful school, and our truly remarkable young people.