Creativity: Bunting from Batley
Creativity: Bunting from Batley
16 May 2022 (by Dominic Wroe (dwroe))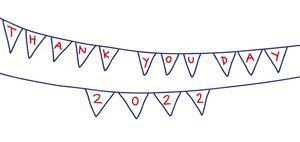 UBHS has been asked to make some bunting for National Thank You Day on 5th June. We were thrilled to be asked to contribute to this wonderful event, and our bunting from Batley will be displayed in the Tate Britain alongside some of the nation's greatest masterpieces. This is a superb opportunity for our young people to showcase their artistic and creative skills, and to have their work exhibited in a national gallery. Taking part in a creative project helps to boost your well-being and is a good way to relax, it is also a great way to use your imagination and think outside the box-to think differently about things. At UBHS we have a fantastic Creatives Department (led by the wonderful Mrs Farrar) and we encourage all our young people to be creative. Research proves when children take part in a creative project their progress overall also increases. Plus, most importantly, it is great fun to do.
The purpose of the bunting and National Thank You Day is to thank people from across the country for all of the wonderful things they do day in and day out, and how they support each other to build stronger communities. The Queen's Platinum Jubilee this summer is a great excuse for a big party,
to say thank you to everyone who has helped us through.
We're getting together as friends, families, neighbours and communities, to celebrate The Queen for 70 years of outstanding service, and to say a great big thank you to one another! Let's make this the biggest street party ever! The bunting will be used to decorate everything from bandstands to community halls, from railway stations to hospital wards.
Please get involved and deliver your bunting to our school and we can send it through to London for you. We are hoping to make at least 200m of bunting from across our family of schools. Let's get creative!