Innovation on our doorstep
Innovation on our doorstep
27 September 2021 (by Dominic Wroe (dwroe))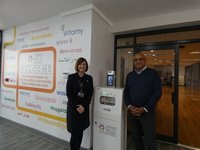 Upper Batley High School was absolutely delighted to welcome Noel to our school last Wednesday. Noel works for the local company Essential Healthcare who are innovators in their field. The company is based in Birstall and is innovative, creative, forward thinking and truly inspirational.
They have supplied our school with an eSheild device which is set to change hand sanitiser use for good. The eSheild ensures our hands are sanitised both top and bottom, the sanitiser is effective and not gloopy, plus the speed of the machine means we can easily sanitise everyone in our learning community quickly, safely and effectively as they enter our school each day.
Noel took the time to tour our wonderful school, meet staff and learners and we hope to have an ongoing link with this amazing company as part of our outstanding careers work moving forward. As a great man once said "If you can dream it, you can do it". Innovation, engineering and great business acumen all in our local area. Well done to Essential healthcare and their whole staff team.