Governors Blog 2019/20
Governors Blog 2019/20
OFSTED Report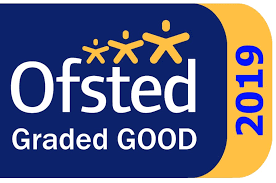 It was no surprise but nonetheless hugely gratifying to be awarded good in all areas by OFSTED following their recent inspection of our school. This is a significant staging post in the school's journey to even better outcomes such is the culture of continuous improvement that is embedded within the whole team, and we are absolutely delighted with such a positive assessment.
As Governors of the school we wish to recognise and acknowledge that such an accolade is only achieved through commitment, dedication, team work, talent, and a steadfast focus on putting our boys at the absolute centre of all they do. OFSTED commented on how the staff put their " heart and soul" into their work which is praise indeed. We are so fortunate to have a team of staff, both teaching and non teaching, who daily go the extra mile and beyond to ensure our learners leave school in the best position possible to capitalise on their future life chances. So a massive thank you to all of our staff for all you have done and continue to do.
Whilst a team effort, I would like to single out one individual and that is our superb Headteacher. Since her appointment, first as Deputy Head and subsequently as Headteacher, it is an understatement to say that Ms Vickers has worked with unending commitment to radically orchestrate and improve both the learners' experience of school and their outcomes. In addition, she has welcomed our community into school and formed immensely positive relationships in the wider educational, business and local community. No wonder that the number of parents choosing UBHS has risen by nearly 50% within the past few years. We are indeed lucky to have her at the helm of such an impressive team.
Finally as one who is frequently in school great credit has to be given to our boys. OFSTED commented on the good behaviour and politeness of our boys. That is my experience and this reflects wonderfully on the ethos of our school.
The OFSTED report has provided yet again a much deserved and heart warming boost to the school. Their report describes UBHS in glowing terms and demonstrates how well equipped we are to meet the challenges of tomorrow. What a way to start the next half term.

Alastair Megahy
Chair
Upper Batley High Governors
Men's Talk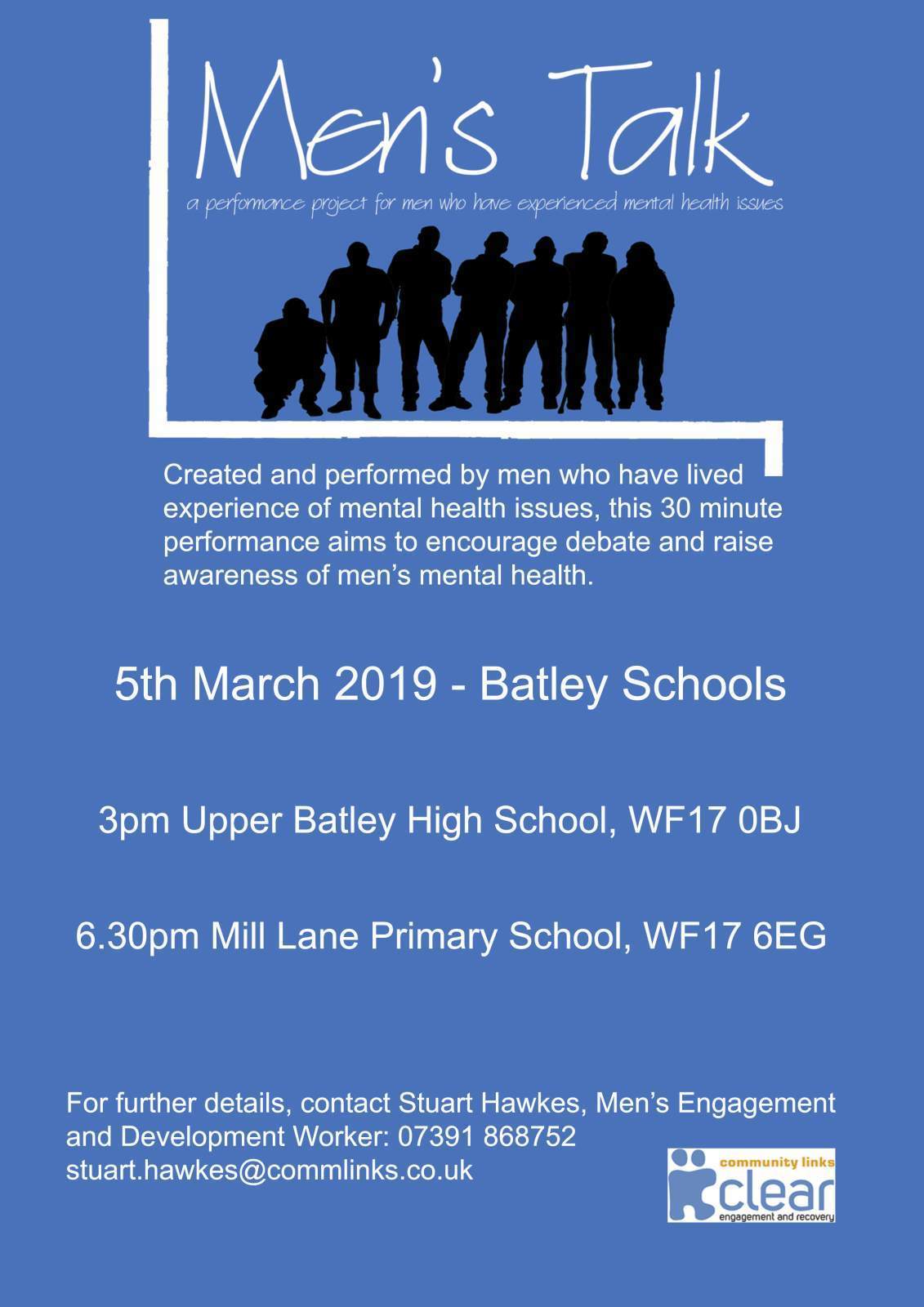 We live in an age where the pace of change and the pressures on young people have never been greater. Every day the headlines and newspapers report on the difficulties that many teenagers and children experience in relation to their mental health. Many causes are attributed from the damage that social media inflicts, the pressure to look good, the tendency to compare your own self with the perfect, the pressure to get good grades and the less certain world of employment to name but a few.
The Governors and staff at Upper Batley High School recognise such pressure. There exists a learner centred ethos and the optimal size of our school enables staff to reach out and meet individual need but it is important that we are proactive in this area.It is also recognised that boys are often less inclined to talk as there are often additional pressures on boys to be "strong", to not show their feelings. This can of course lead to boys carrying negative and difficult feeling in isolation and loneliness.
A very powerful and enlightening event in the form of a stage production entitled "Men's Talk" was held at our school as a means of addressing this issue. It was largely for an audience of staff due to the hard hitting content, to enable those responsible for the welfare of our boys to understand more comprehensively the different ways in which poor mental health can manifest. Depression, anxiety, obsessive compulsive disorder, self harming, post traumatic stress disorder are examples of conditions that can blight lives. The performers were not actors but were individuals who themselves had suffered mental health difficulties, often for many years in silence, with the burden of misery that comes with such conditions. It was a very powerful performance as a result of it being rooted in their own real life experiences.
The liberation from their own difficulties came through joining a men's group where a safe space was created for them to talk about and share their own individual life stories. Being able to unburden themselves in an arena where true understanding and empathy was at its core made a massive difference to their quality of life and how they felt about themselves. This shone through and indeed the mere fact that these men could take to the stage was testament to the healing that such a group experience had brought them. All present saluted their courage in putting on what was such an intense, authentic and educative and consummate performance.
The moral of the production was that talking and sharing problems is the first step to resolving them and the earlier the better. I know after seeing the performance that it helped further my understanding of the effects of poor mental health and will further equip the staff group to deal sensitively and productively when encountering such health difficulties as they arise.

Alastair Megahy
Vice Chair
Curriculum Committee
The Curriculum Committee which is an established committee of the Governing Body provides a regular opportunity to focus on progress and attainment across the range of subjects offered by the school in addition to receiving regular reports from subject leaders. It is at this committee that governors can get into the detail of school performance and ask the penetrating questions in relation to learning outcomes across all year groups. Special mention must be given to one of our members, Mr Aswat, who excels in terms of his preparation for and tabling of extremely well thought through and focussed question at our meetings.Such an approach helps governors to get into purposeful discussion about what actions need to be taken to accelerate the rate of progress and attainment for all our learners.
At our most recent meeting in early February we received a report from our humanities department. It was gratifying to hear of the improvement in this area thanks in large measure to the commitment and hard work of the Head of Department, Mr Parkin. The department has been held back a little in the recent past by insufficient specialist subject teachers for a variety of recruitment difficulties and we are now delighted to announce that we have now recruited suitably highly qualified and skilled specialist teachers. We look forward to the department continuing to go from strength to strength as a result of these measures.
It is important as a committee that we have a detailed and up to date picture of the data across the school and this is something that is well ingrained at Upper Batley High School. Equally essential is what is done with this data. A stimulating discussion took place about a range of measures to closely track each individual learner, to tailor teaching to individual need, to offer a comprehensive revision timetable and to strengthen learners' approach to changes in the curriculum. Importantly too is to be able to recognise when and where things are not going well and to take constructive measures to make necessary changes if needed. Great quality teaching, learning and leadership is now well established and an increasingly mature learning culture where staff across the school regularly come together to share good practice is apparent. The quality of teamwork, professionalism and learner staff relationships and a clear focus on excellence also marks out a good school and it is by being able to spend time in dedicated committee meetings that we can be further reassured that ours is a school that is committed to giving each learner a well rounded and high quality learning experience.

Alastair Megahy
Vice Chair
Upper Batley Governing Body
Policies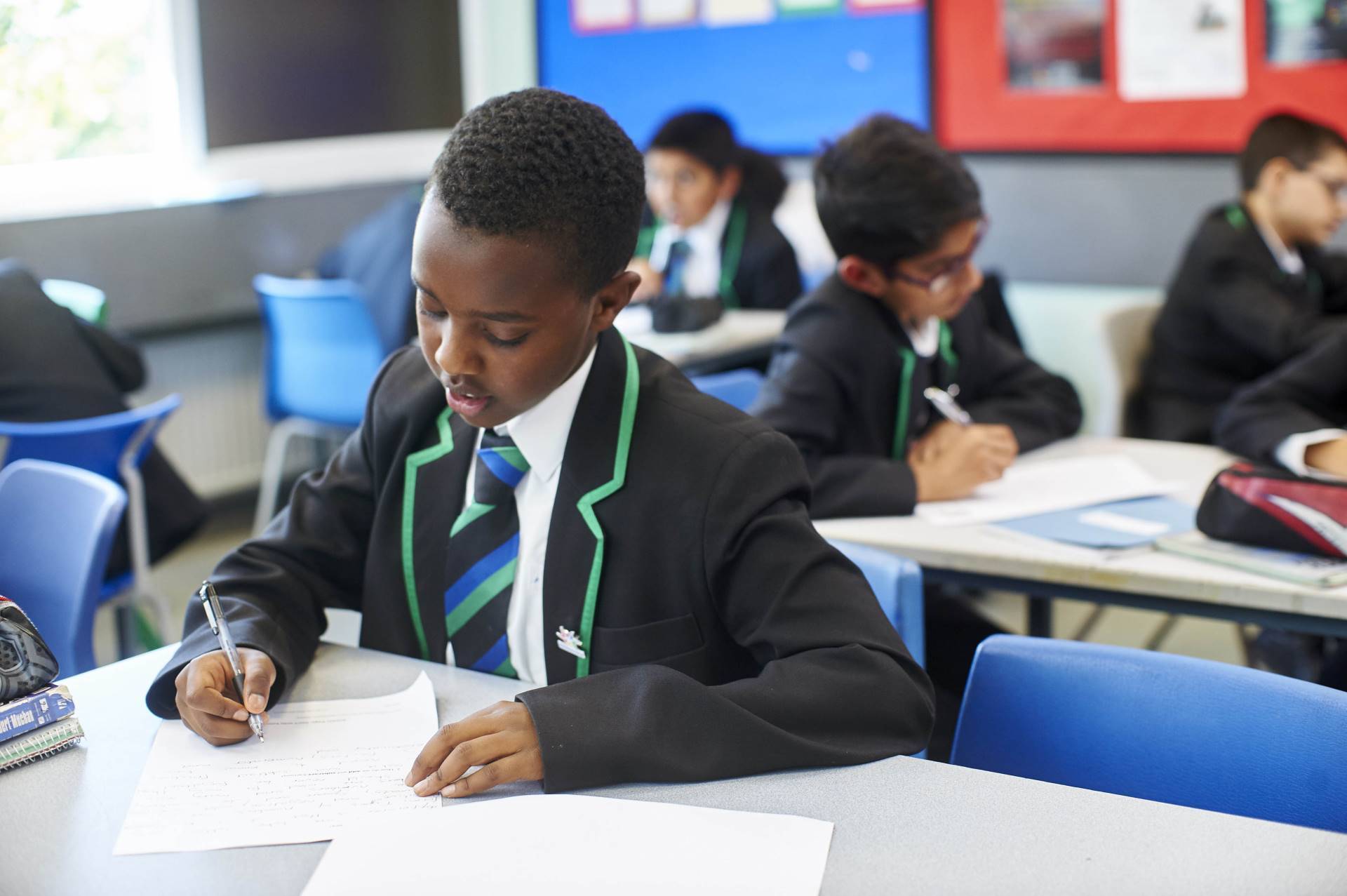 One of the key areas of ensuring that our school runs well and maintains high standards is to develop policies and procedures that are accessible, understood by all and support our central objectives. Not only do policies establish boundaries, guidelines and best practice but allow us to communicate to all in the school desired organisational behaviour and ways of doing things.
The Governing Body reviews policies and procedures on an annual basis to ensure they are up to date and reflect any significant legislative or other changes. We have just completed this task for the current school year.
It is important that policies are living documents and not simply box ticking exercises and as such we encourage the widest involvement in their development. As we are part of a multi-school academy trust we also work across school boundaries where appropriate to ensure alignment and to capture the widest best practice. An example of this is with our safeguarding policy where a forum has been established including primary and secondary partners to feed regularly into this process.
Our policies can be viewed on the school website. Why not have a look and a read they give a great picture of the high standards we expect and the high quality of activity to enable your son to be educated in the best possible learning environment.
Alastair Megahy
UBHS Governor
Careers Event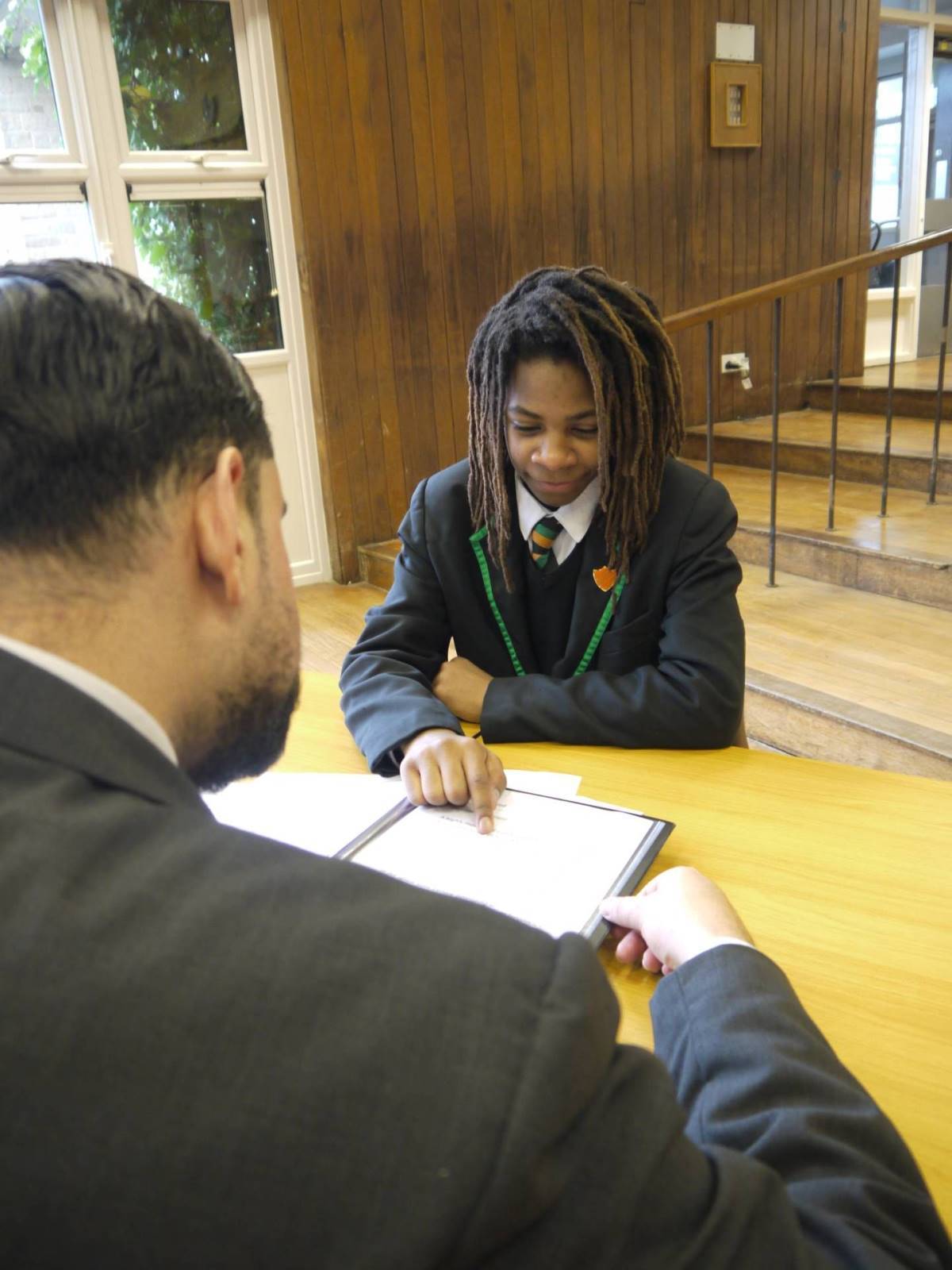 Once again it was my pleasure along with fellow governor, Mr Alvy and a range of representatives from local businesses and training establishments to participate with the mock interview programme that is an established event in the educational calendar of Upper Batley High School for Year 10 and 11 learners.
The Careers education at the school is widely recognised as being excellent and forms an integral part of the curriculum throughout all school years. There exists a rich variety of activities to inform and educate our learners about the full range of opportunities that are available to them on leaving school. Such activities and approaches include inviting motivational speakers , focussed careers conventions, organised trips to universities and specific places of interest along with the partnerships forged with local employers. From early on in the life of our school learners are tutored and encouraged to think about what they want to pursue as a future career and what qualifications and skills they need to develop.

Given the commitment to this dimension of the boys education it was not surprising but hugely gratifying to experience the high standard of performance throughout the Year 11 interviews held on January 18th 2019. There were some really strong individual performances and as a whole what shone through was the level of preparation and confidence and good character from all learners. It was also clear that the activities provided at school really did inspire some career choices and were specifically referenced by a significant number of learners as influencing their future training and work plans.
The learners can take great pride from the comments of fellow interviewers. Without exception the comments were genuinely and highly praiseworthy and yet again reflected so positively on our school so a massive well done to our Year 11s.
Finally a huge thanks to Miss Grogan for her tireless efforts in organising such a successful event and for her looking after all contributors so well on the day.

Alastair Megahy
Vice Chairman
Upper Batley High School Governing Body
Presentation Evening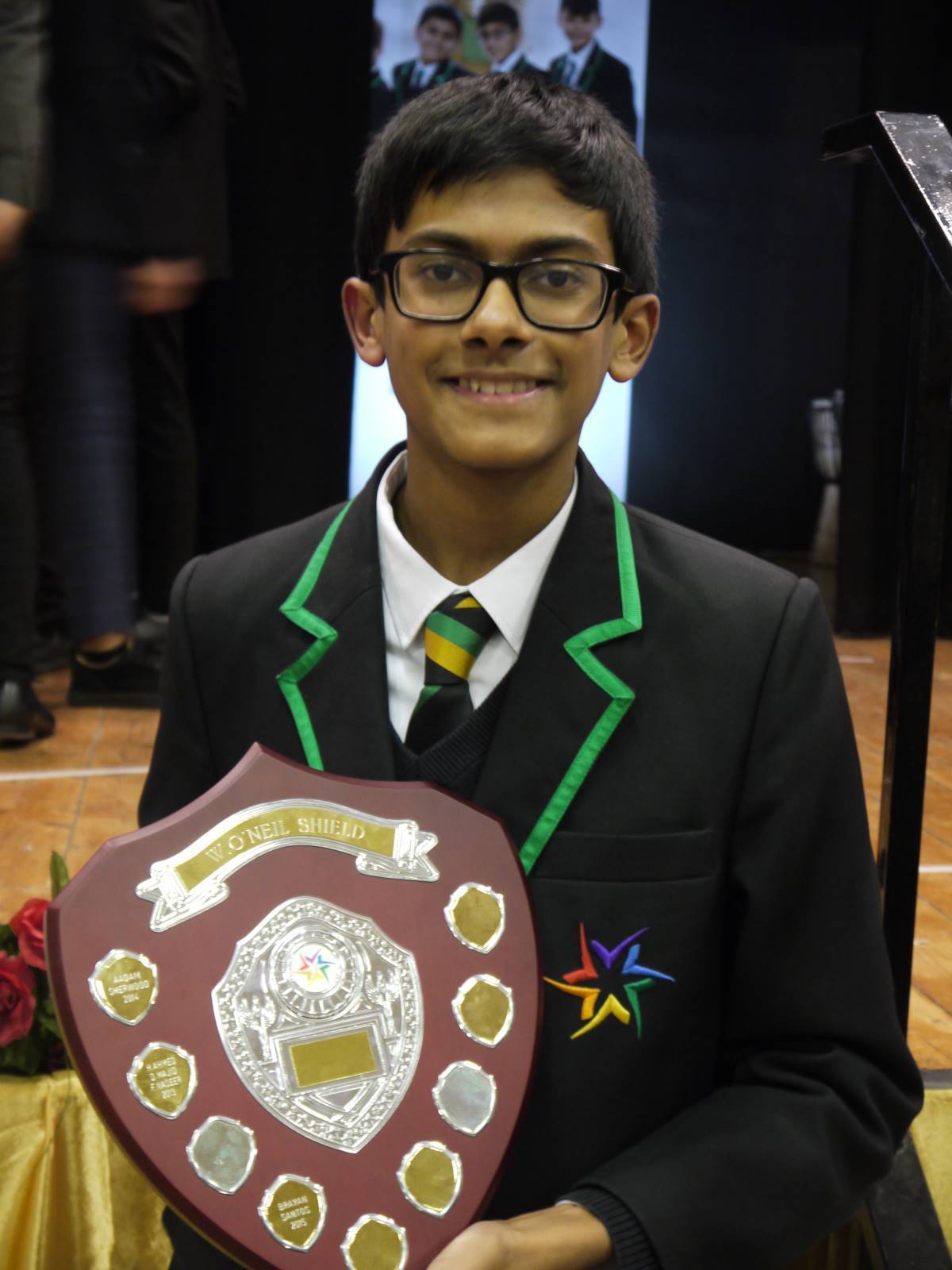 One of the highlights of the school year at UBHS is the Presentation Evening which recently took place. This is an opportunity to celebrate the many successes across the academy in every aspect of school life. It was so pleasing to see a full school hall of parents and family members who were rightly brimming with pride to see their boys receive recognition for all their hard work, application to their studies and contribution to wider school and community life.
The Deputy Head boy and Head boy spoke eloquently and confidently about their positive experiences of school life and how fortunate they felt to be learners here in the care of such committed staff.
The guest speaker was Kim Leadbeater, sister of Jo Cox who has worked so energetically and passionately to continue the work around community cohesion and loneliness that were so close to Jo's heart. Her words carried special significance particularly when she spoke of developing character traits such as getting back on track when you've had a setback and the difference that resilience can bring. She indeed is such a shining example of this.
Ms Vickers gave a resume of all that the school has achieved in the last year which included recognition for the schools achievements in a Parliamentary Review report, and the announcement of our Careers Hub as we are one of only 20 schools in the country to have achieved this. There is so much happening at our school be proud of that it is no surprise that numbers of first preferences for parents regarding admission continue to grow so impressively.
Special acknowledgement to Mr Farrar for so consummately hosting the event along with one of our excellent learners, Yasmin Fadel who did a tremendous job in assisting him with this.

Alastair Megahy
Vice Chair
Upper Batley Governing Body
Year Leader
Another great day yesterday this time interviewing for a Year Leader. There were five candidates, three external and two internal, and, after a very thorough all day process involving literacy and numeracy tests, an 'In Tray' exercise, interview with the School Council and interview with Ms Vickers and myself, we selected Joanna Sanderson-Dent. Joanna already works at the school and came through a very strong and competitive field to be selected.
It is very pleasing to see that we are developing our own staff to compete with experienced external candidates as the other internal candidate was also very good. This reflects well on the school and shows that we are developing strength in depth in both our teaching and support staff.
So well done and congratulations to Joanna.
Geoff Alvy. Governor
Indiability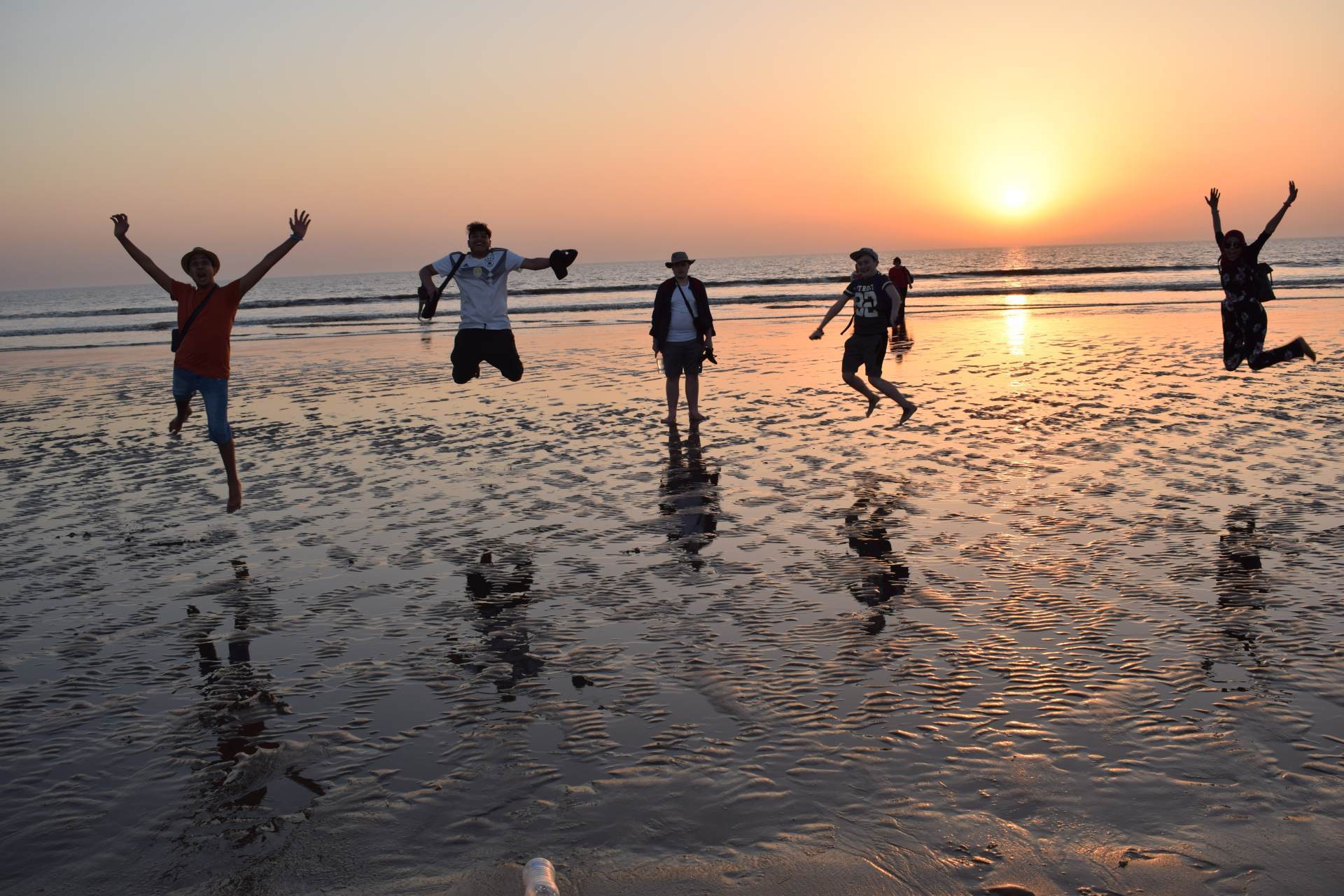 It was a tremendously uplifting experience to attend the" Indiability "celebration event following the recent trip to the Special school in India that the school has supported for a good many years. The detail around the Indiability programme is well reported elsewhere and the school can be rightly proud to be involved in supporting their fellow learners in another continent who do not have the advantages that many youngsters in our community have.
Education is not just about passing GCSE's as important as that is. Learning how to treat others, to be kind and to do what you can to improve the lives of all, especially those less fortunate is what we should all aspire to. Loving thy neighbour is right up there as being the most important of life's values.
The way in which the whole community has come together to support this trip is a testament to the strength and generosity of the local community. Parents, staff, learners, friends, former learners, governors, local businesses and well wishers have contributed to make this trip an immense success. Special thanks must go to Mrs Dent and her team for their superhuman efforts in fund raising in order to make this happen.
The boys who went on the trip spoke eloquently at the celebration event about their experiences and what they had gained from this wonderful opportunity and the following is taken from one of the boy's speeches.
"On a whole my experience in India has taught me to respect and look after what we have and who we have in our lives. Also it has made me realise there are people less fortunate than myself and they are happy for what they have and how they live."
It is by giving that we receive and it is clear that all who participated gained enormously in so many ways and I am sure gained experiences that they will treasure for the rest of their lives.

Alastair Megahy
Vice Chair
Upper Batley Governing Body
Mock Interviews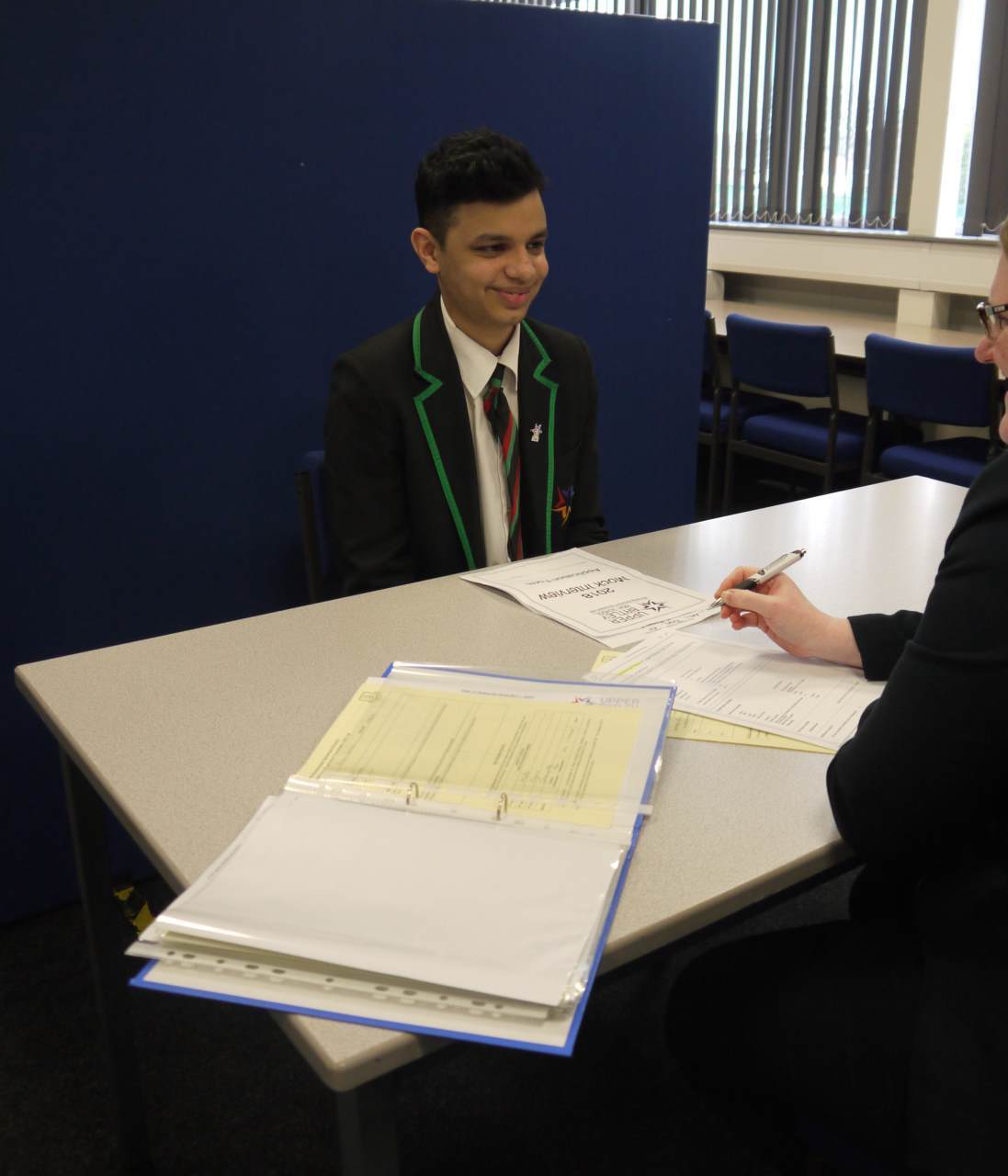 I was privileged, along with fellow governor Mr Alvy, to take part in the programme of mock interviews for year 9, 10 and 11 learners. This exercise is part of a whole series of events tailored to prepare our boys to successfully obtain career/training opportunities on transition from Upper Batley High School to the outside world.

The school was generously and expertly supported in this event by a number of businesses and colleges. Thanks and acknowledgements to those organisations for releasing their staff to conduct interviews at our school. Special thanks also to Mrs Grogan at school for going above and beyond in both organising this event but also for looking after our visitors so well throughout the three days of interviews.
It was extremely gratifying to hear the comments of fellow interviewers. To say they were impressed with our boys is an understatement. There were many boys who the representative employers would employ without hesitation. The maturity, politeness, enthusiasm, preparedness, conduct and the way the learners projected themselves was commented on by all. They did themselves and the school proud.
In my experience of working with children and young people our boys would present themselves extremely well within the pressure of competitive interview against any of their peers. Their performance also reflected extremely well on the diligent preparation of the staff team to ensure our learners leave school with highly developed skills that leave them well equipped to take advantage of future career and training opportunities.

Alastair Megahy
Vice Chair
Upper Batley High School
Great Teachers
I was pleased to help again this week with interviewing for three more members of our teaching staff.
We interviewed four candidates for three posts, one in PE and two in English, and appointed three more amazing teachers.
Two of the candidates are already in school as part of their teacher training so we had a good idea about their abilities and potential. They were, however, still put through the full selection process of being observed teaching, being interviewed by some of our learners and a formal interview with Ms Vickers and myself.

So, congratulations to Zahra Wasib (English) and Daniel Bamfield (PE) who will join our staff team as soon as they finish their teaching courses. Both had fantastic lessons and interviews and it is very pleasing to see that ambitious young teachers with great potential want to join our great team. I'm sure they will both be outstanding and help further improve the already rising standards in our school.

The third appointment is Chris Toole who is a more experienced teacher having joined the profession after a successful career in financial services. He also will be helping to raise standards in English by working with smaller groups of learners. Again, we were highly impressed with his teaching and interviews and look forward to him joining us after Christmas.

It is very rewarding and a testimony to our school that such great teachers want to work with us at UBHS and further strengthen our super staff team.
Onwards and upwards!

Geoff Alvy
Governor
GETTING TO OUTSTANDING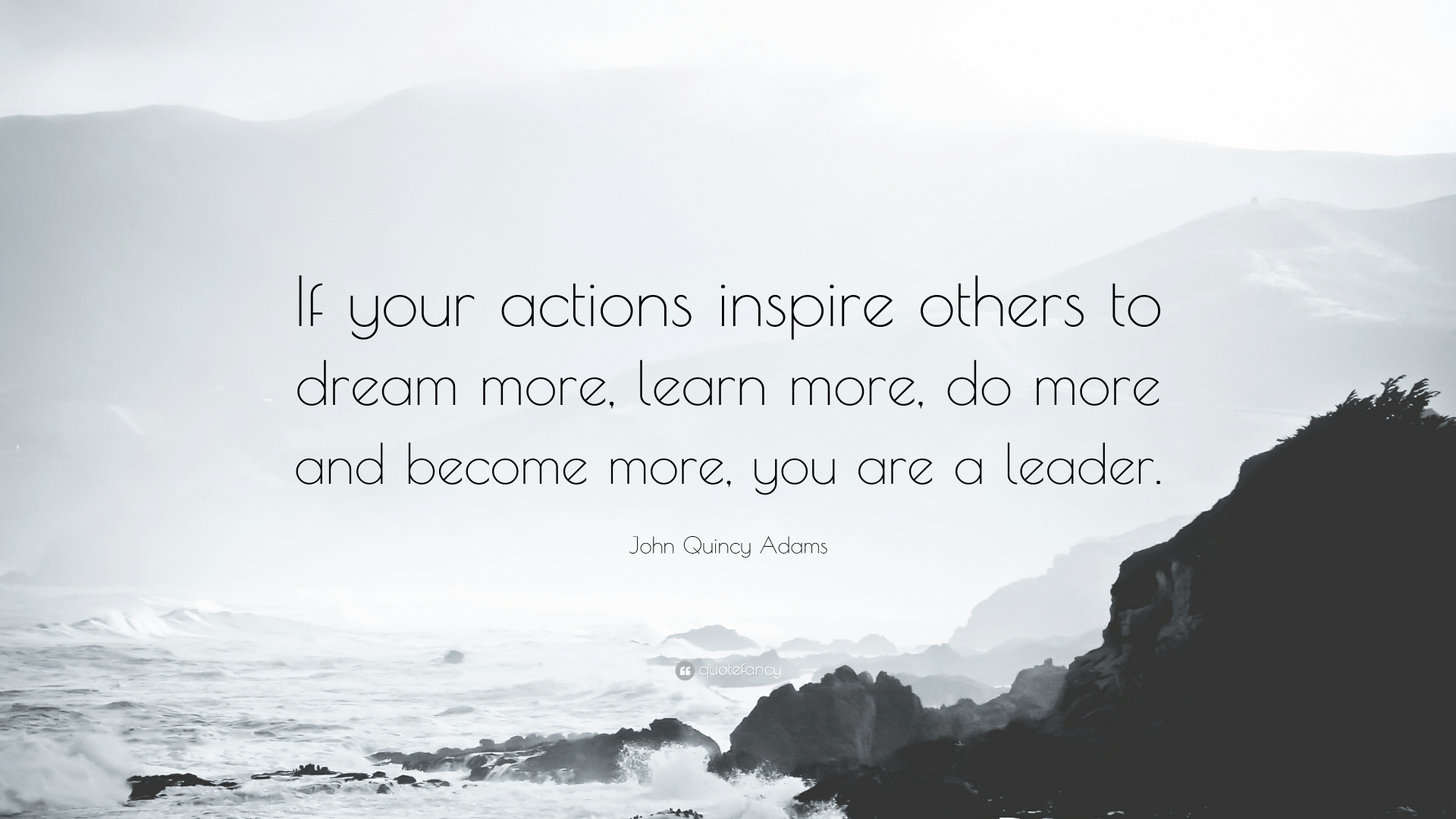 An ambition shared by by all associated with Upper Batley High School and not least by governors is to get a rating of outstanding by Ofsted. This is not about attaching a label but in everything the school does there is a great sense of purpose to become better and better so that our boys are given the best possible start in life. To this end the Governing Body has developed a range of committees and regular meetings with the objective of closely monitoring the quality of learning across the school.
This is something that demands the serious attention of any group of governors and I am able to report that Mr Goora and myself attended an excellent training event this term around monitoring standards. One of the things we learnt is that we already do this rather well but nonetheless were able to pick up some valuable learning lessons as to how we can become more effective. As the time for New Year's resolutions draws near you can be assured that governors are resolute in their mission that we will support and challenge our brilliant staff team at Upper Batley High School to continue our journey to outstanding in 2018.

Alastair Megahy
Vice Chairman
Upper Batley High School Governors
SHAPING TOMORROW'S SUCCESSFUL MEN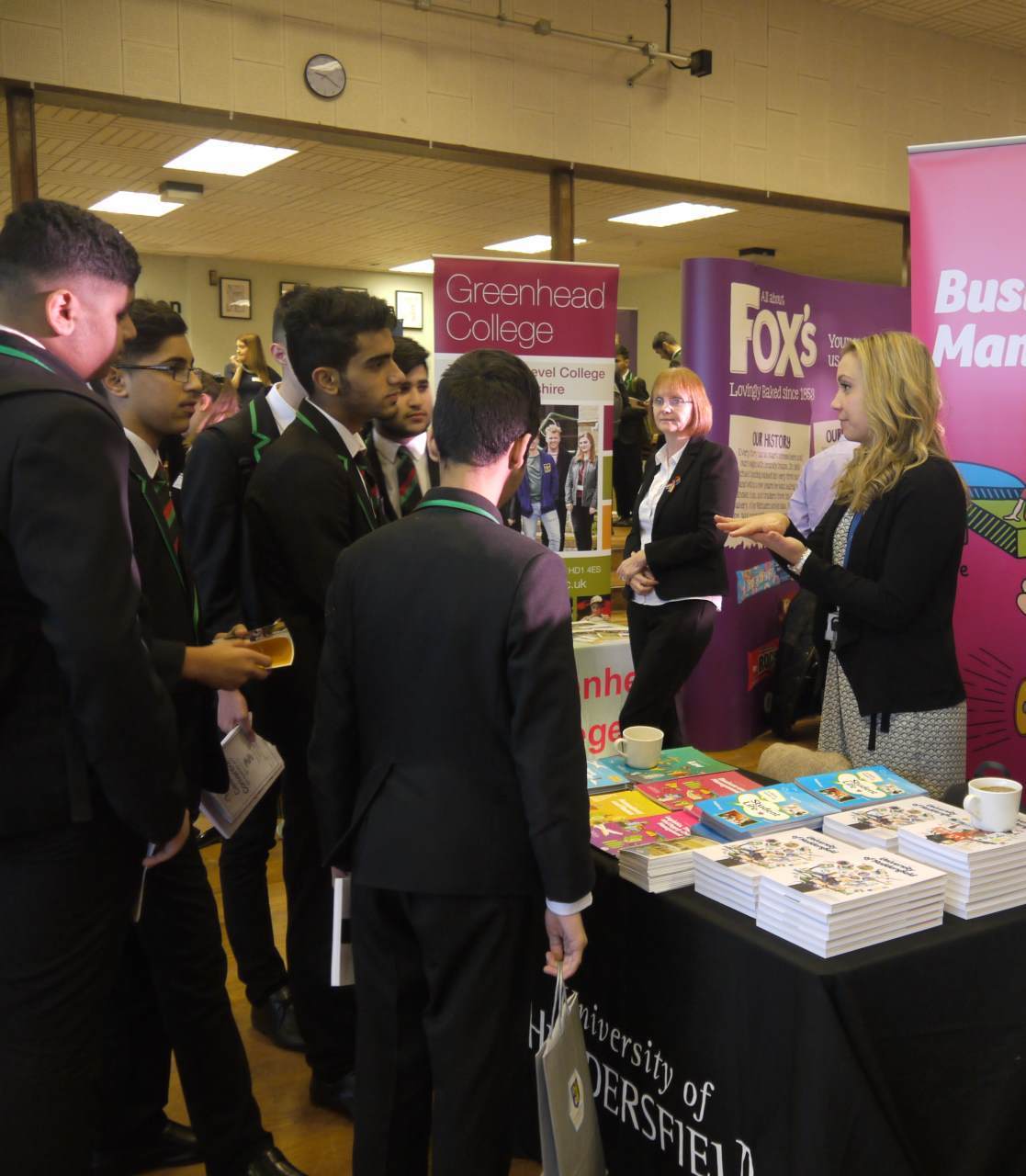 It was a great pleasure to attend the Careers Convention that took place at school on 30th November. The event was part of a continuous programme to help our boys make informed choices about how they can translate their skills, dreams and aspirations into a future career.
There were about 30 providers advising and exhibiting which included colleges, universities, and both local and national employers. It was great also to see so many parents in
attendance. Acknowledgments and thanks to Mr Sherrard, Mrs Brackley and Mrs Grogan for organising and co-ordinating this event. The Governors at Upper Batley High School are proud of how the staff team go the extra mile to enable our boys to reach and expand their potential. This is a shining example of this.

Alastair Megahy
Vice Chair
Upper Batley High School Governing Body
Presentation Evening
I was very pleased to attend the Presentation Evening recently when a hall full of learners, parents and families saw some of our amazing boys being presented with awards and certificates for outstanding contributions to school and community life.
It was fantastic to see so many people celebrating the achievements of the school on such a cold evening.
The whole event was very uplifting with speeches from the guests of honour, Ms Vickers, last year's Head Boy Atyab Ranguni and this year's Head Boy Adam Karolia.
My favourite part of the evening was a performance by the school choir accompanied by a drumming group. I can't remember even in my long association with the school there being a school choir before so congratulations to the singers and drummers and to our new music teacher Mr Rodwell for organising and rehearsing them. Also thanks to Mr Hazelwood for organising a super event.
Earlier that week I had helped with interviews for an Assistant Head Teacher to further strengthen our Senior Leadership Team. This was an internally advertised vacancy and two candidates were interviewed. Both proved to be excellent and demonstrated their strengths, experience, achievement and enthusiasm for the school. It was difficult to separate them. After consideration it was decided to appoint both so congratulations to Mr Sherrard and Mr Farrar.
Geoff Alvy. Governor.